Friday, March 24, 2006
---
>

Goodbye Gray uniform...

at last summer vacation na..hayz..its sad dahil ang daming mawawala at mamimiss ko c VS & c imp..uhuhuhu!

Last week..
Exams nami and andaming emotional things na nagyari...(laking relief ngyun hndi nko nag cram). Nways for the past few days plagi kmi lumalabas ni nikki sa skul to eat kwek kwek, calamarez, at isaw...HEHEHEHEHE!! tpos isang araw na tyempohan kmi nila Mr.Alegrid at Ms.Morales, nag tago kami at inantay na umalis cla. Cguro mga 10 mins kming nag aantay na dumaan cla..pero hndi cla dumaan, so we thought wala na cla, lumabas na kmi ni nikki aun pag labas jakpot nakasalubong namin hehehehe!

Khapon..
Na lab struck ako kay VS bwiset...

Friday, February 24, 2006
---
>

Bket walang psok??!?
HUHUHUHU!!!
I spent my night yesterday thinking of that guy......kung cno ba ung dahilan
at ung clue STAR,moon,fud,1st name middle name last name amP
NEKKEH STEPPIE pls sabihin nyo na...curiosity killsssss

Nakakainis walang psok...xcited pa nmn ako mkita c Imp..
pero buti nlng ala class...dami ksi quiz...
Quiz: Values (halfday ako ysterday)
Geom
Filipino
DS: in history
+
Script for AVP

i also had my haircut 2daY hehehe...its short =P


Sunday, February 19, 2006
---
>

Feb 18..(J.S prom last night)

Hndi pla ganun ksaya...well nung una msya pero ung later part, sheesh bad3p ung part nahhhhh *!&@* alam nyo na un obvious nmn eh...tpos ung freedance wala din..i think twice lng nag play ng music for slow dance err...that mean naging disco ung free dance bsta bad3p lang err di nasulit....pero ok lang nkakatawa nmn c The Thing eh...hehe LE monster.. >:P

THE GOOD THING
After ng J.S pnta kami kina Hanny...ksma cla Nekeh,Sheki,Janan,Jesus,Alex,Kerr, at c stepi..aun kahit papano masaya naman...ang kukulet nila hehehehehehe hangang umaga na un...=P

Pics coming out soon

Saturday, December 10, 2005
---
>

eow..

Kahapon..Sat.
Ang Lufet ng Araw ko..na iwan nnman ako sa Game namin ehehe pero nvm that, hayy "and now were back together" /ho, ala lang..galing kami sa La Concordia College yesterday ksma ko friends ko Aica,Xtin,Camz,Alva,Pompey,Fransky,Jamz, Kerr, Migo and some of the Seniors cla Dana..hehehe..Ano ginagawa namin dun?? we watched MYMP..Mga 5:30 andun na kmi nag aantay grabe sobrang tgaL mag start ang daming intermission, may mga nag perform na Choir "Ambassador Look-A-Like", meron pang feeling "Bamboo", "Doughnuts Band" medyo OK TO, tpos mga prang Concordian Dance Club, no match sa dance club natin, tpos mga prang bading na kumakanta..bsta 6:30 nag start kumanta yang mga yan, at nag start ung MYMP performance 9:00 na GRABE..tgaL tlga, but then sulit naman ung 200php namin eh, ang galing pa din nila, unlike ung napanood ko live performance nila sa East19 medyo boring and onti lang ung songs ang ganda pa ng entrance song ni Juris "I dont wanna wait in vain for your love" tpos ung 2nd to the last song "talaga naman" haaay life tlga ang saket saket..Hinatid ako ni Kerr sa Haus ko, aun inenterview ako ng Mom nia, kakatakot, pero ok lang i`ll help Kerr i`ll do my best *bleh*..

Last Tuesday..
Tpos na intrams yehey..2nd kami as expected..ang lufet nung game sa basketball Juniors Vs. Seniors err umabot sa 2nd Overtime waaahh...pero at the end taLo kami hehe ok lang its their last yr nmn eh..sa over all din 2nd kami huhuhuhuhu...nkakalungkot tlga un, hndi ako umakyat sa stage, nxt tym tlga ggwin ko na best ko sa table tennis, hndi nka mag papalate HUHUHUHU...

Last Week
Cheering OMG, na fi-feel ko na hulog ko...waaahh..buti nalang perfect stunts namin /thx /heh
e2 some pics: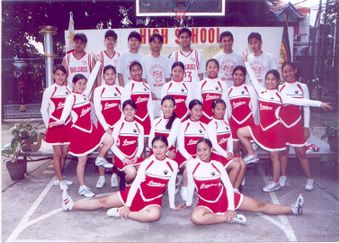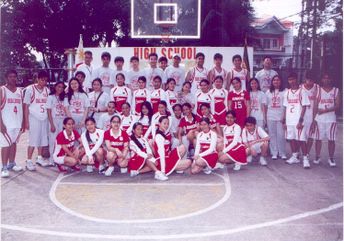 Sunday, November 27, 2005
---
>

HAPPY BDAY CAMZ AND KUYA CHOC..

Super saya ng week ko, I finally found the right one...hehehehe!! grabe im so insipired tlga because of this guy I cant sleep, cant eat, cant stop thinking of him waaa...ok fine lets stop talking about him..

Last week, merong significant na nangyari, nahulog ako nung thursday while we were doing this stunt for cheering nagkaron ng miscalculation napalakas ung tpon sakin sa ere and there I go **plaK**..Ouch tlga, 3days ko hndi magalaw ng maayos ung right arm ko because of that..but then I dont blame anyone because of that, Ms. Indiongco even asked me if i want to give an IR to my boosters.."no way"..wala nmn may kasalanan nun eh..

Yesterday Sat. Nov 26..
Its Camille's and kuya choc's Bday..yehey!! so what happened? hmm..8am pmnta ko sa school para sa opening ng GALS sa La Salle GH Animo!! Grabe ang boring nung opening buti nlng may intermission number HAHAHAHA merong 4 guys from La Salle na kumanta name ng band nila ay SOLD or was it SOILED joke hehehe..well ok lng ang ganda ng boses nung 4 guys, after nila kumanta ung mga nsa left namin players ng St.Scho sigaw ng sigaw they were asking 4 more song from SOLD...HUH??? ganun ba tlga cla ka sabik sa guys..hehehe!!

OK after ng opening we went 2 kingswood kasi meron kaming GMIK, Ang daming ksama celebration ksi ng Bday ni Camz and ni kuya choc..aun she ordered pizza's and after that mga 7pm we went 2 roxas blvd. grabe ang saya saya..Ksama ko cla Alva,Sean,Xtin,Aica,Camz,Cza,And of course kuya choc..wla lang senti mode kmi,pa picture-picture sa mga statue's (PHOTO'S COMING SOON)..it was so fun, pero i was so nervous din ksi I thought ihahatid ako ni Jason aun pla 12:30 pa, buti nlng tlga
Alva was able 2 convince Kerr na ihatid ako or else paktay nnmn ako kay daddy..Grabe sobrang pa importante tlga ko! We walked from Roxas to WarZone..prang deathmarch nka ilan sakay kmi ng jeep FYI 60php ang bayad namin per jeep..Hay pero after our successful deathmarch i was able to go home safe & sound Thx Kerr..ewan ko lng sa mga ksma ko that night, i was so worried nga ksi bka kung ano nang nagyari sakanila, i know they're not used to going home that late and nag commute pa..chuwi tlga..yet still i hope everyone had fun as i did!! Yesterday is one of my most unforgettable and memorable day..thx camz :)

Monday, November 21, 2005
---
>

Oh my Gosh! great pathetic week..

For the past few days we have been practicing for our cheering..the heck ang sakit na ng katawan ko kakabagsak pero grabe ang saya pa din..last week muntik nko mamatay in the hands of Carlo..oh well, im really sad i mean very very very SAd about the table tennis game..talo ako! huhuhuhu..hngang ngayon i have the nightmares..kanino b ako natalo? cno pa kundi kay Siegried, oo aminado ko no match ako sakanya, pero d pa din fair para SAKIN ksi na late lng ako ng 5mins..at akala ko meron pang championship aun pla un na un..grabe WALa man lng warning na we were fighting 4 the 1st place n pla HUHUHUHU...at hndi pa dun nag tpos ang lhat sa miserable kong buhay..

Nov19 Saturday

Kasama ang aking mga friends meron kaming GMIK alam nyo n un..after nun nag pnta kmi sa g4 at dun nag simula ang lintek kung araw, 1st of all hndi biglaan ang lhat wala akong dalang money ksi hndi ko alam n aalis kmi..then, hndi ako nkapagpaalam ng maayos sa daddy ko (Im so chuwi paps) and lastly sale pala sa g4 at hndi ako handa..

Habang nag lalakad kami ingit na ingit ako sa mga na mimili dahil ang mura grabe..oh well thats life minsan kelangan tlga ng sacrifice, at syempre dahil nandun kmi hndi na iwasan maalala ko ung someone speacial 4 me..i miss him.. Mga 8pm nag pasundo na c Jason tumawag nko sa dad ko at AMP galit na galit sakin..by 10pm nsa GB3 na kmi wala p din ung Driver ni Jason amf tlga..nka uwi ako sa haus 11:45 at dun ako nkatikim ng sermon, at punishment na wag umatend sa game gamin ng volley tom., Ouch tlga...

Nov.21 Monday
Pag psok ko binalita sakin kagad ni Asuit ung Scandal sa Lydia, Nananahimik nkong nag lalaro ng RF at humangen nnmn ng RO..ang balita ni Asuit c Osrac GM ng hatred..nka patay daw 4 GTB card? what the hell??
d kapanipaniwala just 4 GTB card, pero im really curious about it im sure he wouldnt do that..

AT 15mins ago..C KreLian at ung Asawa niang c Freya inaway ako w/ a reason na hndi ko maintindihan..cowboy hat daw, hmm...ang cheap nmn nun i wont blame them 4 that prang cowboy hat lng eh..lumabas ung tunay na ugali ni freya..ANG SAMA SAMA NIA GRABE...ang bitchy..hndi ko akalain ganun pla cia.. hay bhala na..ayoko na tlga mag RO..

I Love Robert Pattinson


Sunday, November 13, 2005
---
>

After a long Hiatus im finally back 2 blogging inspired by Camz..

Wala lng..Nagicing ako ng 11am at nagsimula ang araw ko na ganun pa din..PERO, meron isang antipatikang alien na pumasok sa icp ko kaya nag simula ang araw kung bwiset..Oh well madami talagang mga puno, alien at thickface sa mundo ko..

So last week..and daming nangyari prang feeling ko 1 day lng ung sembreak namin,we saw our exam results at so far ang pinaka ayoko na makita *ehem**ehem* Filipino ay hndi nmn ganun ksama ung grade ko..in fact **ehem**ehem** mataas ako sa History pero actually lahat kmi sa classroom mtaas..So ang problema ko nlng ngyun ay Chemistry.. at bukas im back 2 reality again makkta ko nnmn ung mga alien..

2Weeks ago:
nAg-yaya ung mga Alien na mag punta sa Bora..ay syempre ksma ang aking Mallows makakatangi ba ako?? ang saya sobra 4 a day nkalimutan ko lhat ng problema


3Weeks ago:

Nag eexam ako..lhat ng exam madale ang problema hndi ako nag aral..Bket?? LUMABAS NA KSI UNG 3rD JOb sa Ragnarok eh at dahil adik nga ako dun maaga ako umuuwi hndi para mag aral kundi mag RO..ang sama tlga..pero sa awa ni God ok ung results ng exam..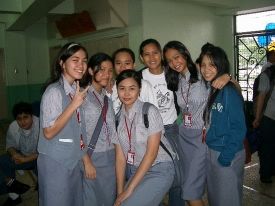 Ako lng na iiba noh

Get awesome blog templates like this one from BlogSkins.com